Marketing | WBook | Product Category: CourseWork
Best BSchool material (solved) on tough subjects like Operations Research, Economics, Statistics, Case Studies, Placement Interviews, Aptitude/Psychometric Tests etc.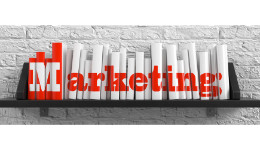 This first of its kind workbook in Marketing covers the entire subject, specially crafted for BSchool students aiming to specializing in Marketing Management.
Package Features:
Marketing is one of the most popular choice of specialization in any management course, mostly for the wide range of job opportunities it offers. Like any other subject some core conceptual knowledge is required to have mastery over this popular subject, our material is desigend specifically for this purpose.
This special material is in the form of a WorkBook and contains solved questions designed specifically for students pursuing management studies.

This material contains 300+ questions, which means ample practice ground for a student to prepare for his exams. A thorough preparation of this material will definitely help you score well in this subject.

The WorkBook here is a collection of actual questions faced by students during their examinations on campus, therefore they are relevant and extremely important.
File types included in the zipped package : PDF

File size of the package : 1 Mb

No. of Pages : 119

Read/Write Authorityaaaaaa Authentic DataaaaaaaInstant DownloadaaaaaaFree To Share
---
Consumer Reviews
By Bachtiar Chamsyah never have we heard of marketing questions banks..you are the first one to have invented such thing ? good job By Manisha Lamichhanemarketing is always taken for granted, we are supposed to be doing nothing but salesmen, you have really made it so bold and clear that even arketing has concepts and it has so much more to offer than just selling and writing pages of nonsense..goooooood JOB By Ba Htay in my batch finance has concepts and marketing is supposed to be just talking big and selling, this materilal will change the way we look at marketing, the concepts, the finer aspects of marketing By Eike Htunfull marks to team dongrila for designing such a SOLVED qustion bank By Birendra PalI havent seen a solved question bank for marketing, question banks are generally for finance but I gues the trend is changing now with dongrila coming into picture By Vivek Dasaniblessing in disguise By Neelam Pandey By Yardena Arazi marketing material is always a surprise element an that too a solved question bank with 22 chapters !! By Sigit Budiarto pretty impressive

By Thalapathy Rajusome of the concepts could have been dealt with in depth here, think about it